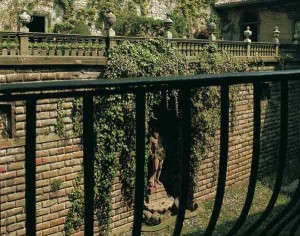 At number 12 of Via Porta Painted under the Rocca Civic , it opens the entrance door of one of the most authentic expressions of baroque in Bergamo Palazzo Moroni.
The construction of the Palace was commissioned and built by Francesco Moroni, born in 1606 in the heart of the Upper Town, in the palace of Via Gombito where half a century before the Moroni had moved from Albino, place of origin of this noble family whose memories go back 1300. The fortunes of Francis, his marriage to Lucrezia Roncalli in 1631 and the number of children that followed, led him to the construction of the Palace on the ground of "Porta Penta", the actual door Painted, sold to him by the family of the counts Pesenti, then extinguished.
As we read in the book of accounts of the "Fabbrica di Porta Penta" (modern Porta Painted), preserved in Moroni, the work lasted thirty years, from 1636 to 1666, and were executed by the master of Giovanna Battista. The facade of the building was not designed for a frontal view, as it is located opposite the Palace Marenzi; the latter, acquired by the family Moroni in 1878, was later demolished to create the wide panoramic still exists on the plain.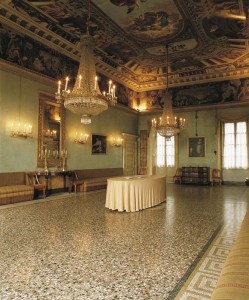 In 1649 Francesco Moroni entrusted the decoration to Gian Giacomo Barbelli (1604-1656), a productive painter Crema, author of frescoes as those of another prestigious town house, Palazzo Terzi. Suggested by the buyer, the subject of the frescoes were as inspiring and contemporary interpreter scholar father Donato Calvi, prior of the nearby convent of Sant 'Agostino, as evidenced by his book published in Bergamo in 1655: "The Mysterious paintings of Palazzo Moroni explained dall'Ansioso Academic Donato Calvi Deputy Prince Academy of Excited Illustrious Sig.Francesco Moroni ".