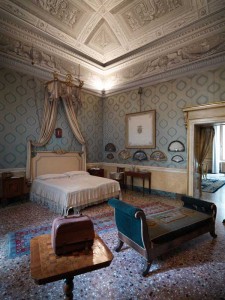 The recorded history of the Moroni family is very ancient, going back to 1334 and its founder Sereno Moroni.
In 1390 a first line descended from Peccino Moroni, while from 1419 a second branch, from Marco Moroni, continues into the present family line.
With their origins in the Media Valle Seriana, the Moroni were for a long time one of the most prestigious families of Lombardia, due to the distinction of many members active in the fields of architecture and engineering. Between 1500 and 1850 members of the Moroni family distinguished themselves for their innate technical and intellectual capacities, amongst them the architect Francesco, the humanist and historian Antonio, and the humanist and scientist Pietro. After 1600 the renown of the Moroni name became linked particularly to the cultivation of mulberry trees, essential for feeding silk worms, and to their consequent important role in providing the raw material for the silk industries.
Hence the presence of a mulberry tree in the family's coat of arms. The eagle was added in 1783, when Antonio Moroni was created count by Duke Karl Alexander of Saxe-Weimar, whose brilliant and progressive court included Goethe, who family lore records having stayed at the Palazzo on his trip to Italy.
A constant love of art characterizes the history of the family, with four centuries accumulation of precious collections preserved in the Palazzo Moroni.