A visit to the Palazzo reveals splendid vistas and innumerable suggestions.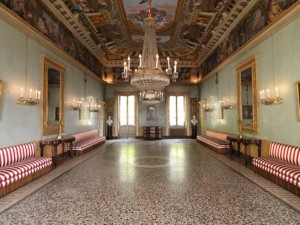 From a courtyard dominated by a statue of Neptune attributed to Lorenzo Redi, the monumental staircase leads to the mezzanine, delicately frescoed at the end of the eighteenth century by Paolo Vincenzo Bonomini, and on up to the first floor where a series of rooms unveils some four centuries of Lombard painting most worthily represented by masterpieces from artists Giovan Battista Moroni, Bernardino Luini, Gian Giacomo Barbelli, Giuseppe Roncelli, and Cesare Tallone.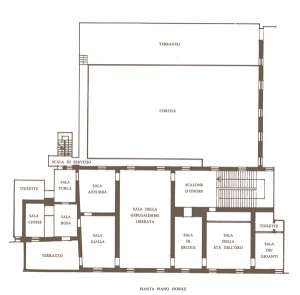 The names of each of the Halls take their cues from the subject matter of the eighteenth-century frescoes on the ceilings: The Age of Gold, The Fall of the Giants, Ercole on a Chariot…These ancient myths, treasured by eighteenth-century painters, were cast aside in the large dining room – also a ballroom in the nineteenth century – where the artist pointed instead towards the protagonists from Torquato Tasso's Liberation of Jerusalem. A luminous whole that is weightless, thanks to the fragility of the delicate Venetian plasterwork on the walls that was introduced in the nineteenth century to adapt the rooms to the style of the time. Frescoes rendered in delicate colors reproduce the effect of plasterwork in these period rooms through the artist's use of trompe l'oeil, while more showy colors and imaginary subjects reconstruct a classical world or the illusion of an exotic landscape, like those seen in both the Turkish and Chinese rooms.
Outside, the balcony that runs along the edge towards the courtyard leads to the unexpected: a panoramic garden, a green space in the heart of the Città Alta, constructed by a series of terraces at the foot of the Hills of Saint Eufemia and comprised of an antique medieval tower that is also part of the Rocca Civica.